Mainline CEO teams with local businesses to aid homeless.
Ribbon-Cutting Ceremony and Building Dedication to Commemorate the Opening of the Renaissance Community Center
More than 40 businesses answer call to help Tallahassee's homeless
March 29, 2012 – Tallahassee, FL The Department of Children and Families joined Mainline Information Systems, Inc., the Greater Tallahassee Chamber of Commerce, ECHO Outreach Ministries, Catholic Charities of Northwest Florida and more than forty organizations, businesses and foundations in a Ribbon Cutting-Ceremony and Building Dedication for the new Renaissance Community Center in Tallahassee's historic Frenchtown community.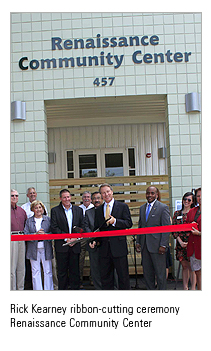 The Renaissance Community Center will address homelessness in Tallahassee and Leon County and will act as a catalyst for improvement in the Frenchtown community. Tallahassee's homeless population currently does not have a place to access services and resources during the day. The Renaissance Community Center will serve as a one-stop shop for homeless individuals and families to easily access an array of services by local providers. The Center will also be open for numerous community outreach activities during the evening and weekend hours.
Partners seek to reduce the number of homeless residing in local emergency shelters by providing tools and resources to help people return to independence.
» Private-sector CEO talks about the Homeless Center (Video)
» Renaissance Community Center
About Mainline Information Systems, Inc.
Mainline, headquartered in Tallahassee, FL, is an information technology solutions and IT consulting firm, and has more than 500 employees nationwide. Mainline has received many industry accolades, including VMware Global Desktop Virtualization Partner of the Year, Red Hat's North America Partner of the Year, multiple IBM Leadership Awards and a HP Virtualization Elite partner designation. Mainline provides solutions throughout the United States, Puerto Rico, and Brazil. The company may be reached by phone at 850.219.5000 and on the Internet at www.mainline.com.
Mainline Press Contact:
Kim Garner
850.219.5221
kim.garner@mainline.com
All company, brand or product names are registered trademarks or trademarks of their respective holders.