CA Technologies Business Partner
CA Technologies creates software that fuels transformation for companies and enables them to seize the opportunities of the application economy.
The Mainline and CA Technologies partnership delivers business solutions to our mainframe customers, helping them to reframe their mainframe platform, improve ROI and unlock business value.
CA Day 1 support for the new z14 platform for enriched data protection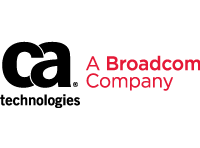 New Data-centric Security Features from CA Technologies Tackle Vulnerabilities and Compliance Challenges
Together, we focus on 4 key areas of mainframe development and operations:
CA Technologies Testing Tools
Storage Management solutions
DB2 Tools portfolio
Workload Automation
As the IT workforce trends towards a younger, experience-hungry demographic,
CA has designed new features to CA Data Content Discovery and CA Compliance Event Manager to provide a simplified yet thorough dashboard that gives IT teams of any skill level the visibility to see and respond to potential vulnerabilities across the enterprise.
"Data compliance and privacy are table stakes for any successful company," said Ken Gross, Mainframe Software Specialist, Mainline Information Systems. "We see CA Data Content Discovery helping our customers with the ability to recognize, in an intelligent and accessible way, which data sets on the mainframe contain sensitive data that need to be protected from a governance and regulatory perspective."
Connect mobile-to-mainframe applications
Every day, mainframes power billions of mobile transactions. Learn how to get agile on the mainframe to deliver applications and services at the speed of innovation.
Connecting Applications from Mobile to Mainframe in the Application Economy