Begin Your Storage Transformation Journey Here
No matter how good your data and storage environments are, there is always room for improvement. Mainline can help you get the definitive answer as to what next steps your organization needs to take to improve efficiency (doing things right); effectiveness (doing the right things); and reduce costs and risk.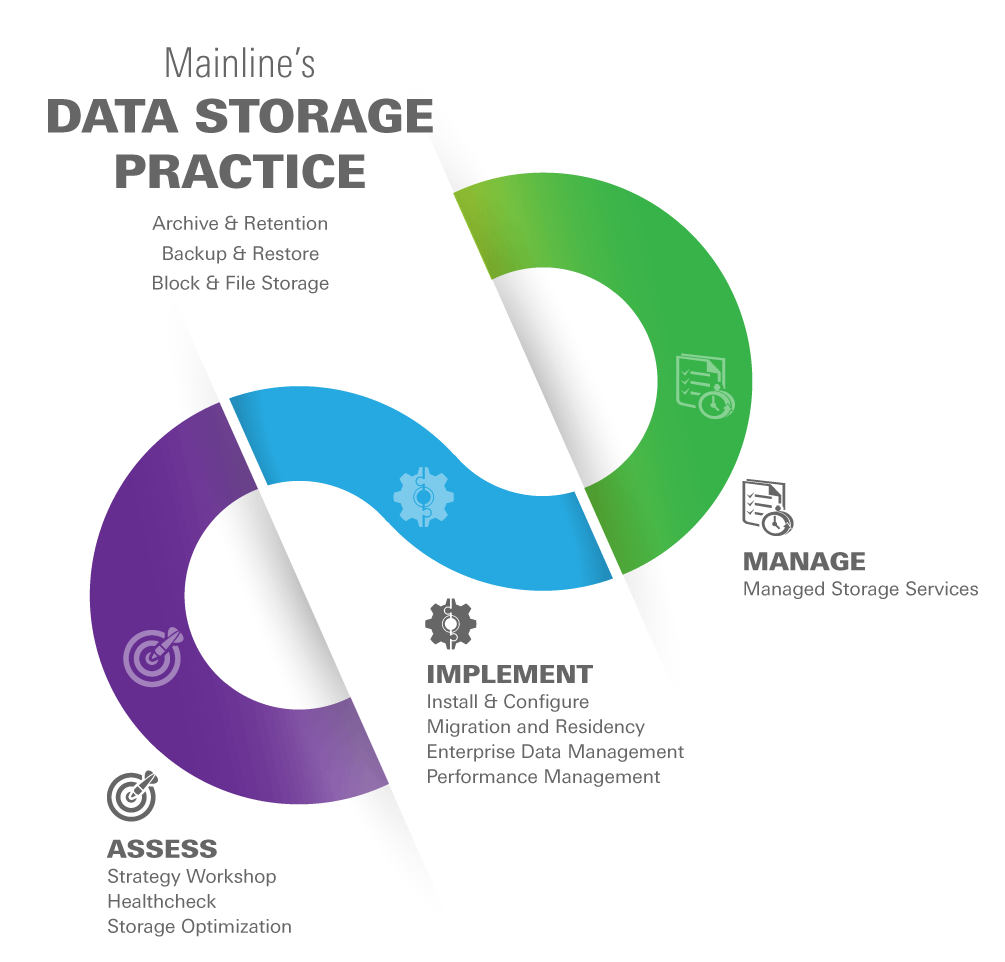 Our Information Technology Assessment Service Model will show you what it takes to be proactive with your user community and to build a framework to achieve operational success for your data storage, protection and archive environment. Storage transformation will help you strike a balance between the technology, the organization (the skills and people that administer that technology), the process (the procedures and policies your people use to administer that technology) and the governance (the glue that holds the three together).
Like all of our services, Mainline's storage transformation journey begins with an assessment that includes implementation and then moves towards managed storage services, if right for your business.
Storage Transformation with an Agnostic Approach
Mainline does sell hardware and is the one of IBM's largest solution providers, as well as a premiere partner for Dell EMC, HDS, HPE, NetApp and others. But, we are agnostic in two ways. First, we sell all major vendors so we don't have any stake in the hardware you prefer.
Mainline is interested in selling the brand that is best for your business. Second, our storage consulting services teams have no stake in the hardware you select and function independently from the product team. All hardware recommendations are described by capabilities and model examples cited by the manufacturer. Mainline regularly presents our clients with the best of breed products in the marketplace for their consideration. Mainline can be trusted to always represent what is in your best interest.
Consultants You Can Trust in Your Storage Transformation Journey
Mainline's consultants have years of experience in a wide-range of industries so we can provide you a different perspective, gather the right information, facilitate your management team's convergence on moving forward and define the right actions at the right time to achieve the intended result. We know that as a third party, our advice affects change. We also know that we are not purely detectives solving a mystery. Yes, we are service management investigators but we work for you. We report our findings through your lens.
Our focus is on protecting and gaining insights from your data through three service areas:
Strategy Services:
These services focus on technology alone or technology included with process, organization and governance leveraging workshops.
Health Check Services:
Health checks are deep dives into specific technologies or issues you are facing. Our Health Checks include all storage brands both file and block, SAN switches, Tivoli Storage Manager, as well as the general subject of performance, where we start with the storage solution and walk back to the root cause.
Storage Optimization Services:
We have built a modular set of consultative services that when combined, can address most issues and concerns you have about your operational data storage, protection and archive environments.

STRATEGY WORKSHOP
A facilitated and managed approach to defining infrastructure strategy. Learn more

ENTERPRISE STORAGE ASSESSMENT
Define current and target data storage and protection environment, identify the gaps, and provide an actionable roadmap of recommendations. The core of any storage assessment. Learn more

DATA STORAGE AND PROTECTION ARCHITECTURE DESIGN
Define and illustrate both your current and future environment, including both logical and physical diagram modeling growth over 12, 24 and 36 months by data center. Learn more

INFRASTRUCTURE APPLICATION LANDSCAPING
Facilitate infrastructure and application teams working together to build a score card, score application requirements and agree on the future onboarding process.

STORAGE INVESTMENT ANALYSIS
Define and enable a loaded unit cost of storage supporting showbacks/chargebacks through the development of TCO, ROI and CBA. Learn more